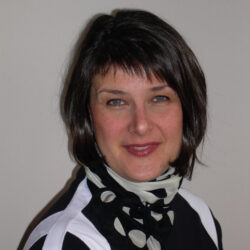 Monica Viani
Millinery Instructor
Monica Viani has been a professional theatrical millinery artist for the entertainment industry since 1995.
Since then, she has crafted and generated countless hats, headdresses and accessories for live theatre, ballet, film and television production. Notable Canadian companies include The Stratford Festival, Shaw Festival, Mirvish Productions, The National Ballet of Canada, Ballet Jörgen Canada, The Canadian Opera Company, The Citadel (Edmonton) and The Globe Theatre (Regina). Monica has prototyped and led the build for various film/television productions, including Hulu's original A Handmaid's Tale (Season 1) and most recently Netflix's film, Slumberland.
In 2006 Ms Viani formed and opened her own bespoke millinery satellite studio in Toronto.  She expanded her client base to U.S. clients, including Kinky Boots the Broadway Musical (Toronto and Broadway tour), Something Rotten! A very New Musical (Original Broadway build and U.S. National Tour), Aladdin the Broadway Musical (Original Broadway build and U.S. National tour), The Lion King Broadway Musical (Toronto, Broadway, Mexico City, Shanghai, Australia, Las Vegas, and North American Tour), Fela! The Broadway Musical (original Broadway build), Spiderman Turn off the Dark (original Broadway build), Hairspray-The Broadway Musical (Toronto), Radio City Musical Hall presents the Rockettes – A Christmas Spectacular! (New York and North American National Tour), Priscilla! The Musical (Toronto and Brazil) and Disney's The Little Mermaid (Broadway Production).
Teaching Credits include the creation and delivery of curricula at Fanshawe College (Theatre costume program) and at the newly renamed, Toronto Metropolitan University, (Formerly) RU Fashion School, RU Theatre school, RU Chang School of Continuing Education – as well as numerous engagements with Stratford Off the Wall, and various private tutorials – on and off Zoom.
Monica Viani gratefully acknowledges The Stratford Festival as being a solid training ground and an absolute inspiration during the early years of this wonderful and unique career path.  
After spending more than a decade in Toronto, Monica now resides and operates her bespoke theatre studio from Stratford, Ontario.   
Their Work
The gallery below showcases some of this artist instructor's work
Current Courses
Explore the courses currently offered by this instructor. If you have questions, please contact us!
This instructor does not have any active classes right now. Please check our full course listings
here
.
Experience intensive hands-on learning and one-on-one mentoring in small classes. Check out our upcoming course listings to see what interests you!
Join Our Newsletter
Receive course updates, upcoming event announcements, and more!