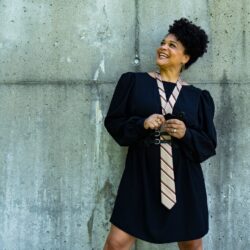 Erica was raised and educated in Toronto. After graduating high school, she attended hairdressing school and was recruited into a high-end hair salon where she first cut her teeth as a hairstylist.
She always considered the arts her true home and was lucky to be awarded a rare apprenticeship to learn the craft of wig making, where she was given the opportunity to build wigs for Ragtime, Show Boat, Fosse, Phantom of the Opera and others, (Livent Prods). That love for theatre and creative collaboration has led her to a 25-year career building wigs for major theatre organizations, running and heading shows in Toronto, Stratford, Halifax, Ottawa and New York. (Broadway credit, Jesus Christ Superstar, Paul Tazwell, designer).
Erica has been an active educator and collaborator throughout her career. She has been instrumental in teaching the craft of wig building to industry pros for over a decade through her work in theatre, union masterclasses on BIPOC hair, and through the arts organization, Off The Wall in Stratford.
Erica is a member of IATSE Local 873, 822 and 357. For Local 357, she was actively involved in securing the membership of her hair and make-up colleagues and has since been on the education committee and a past VP for her local. She was a key player in designing an apprenticeship program at the Stratford Festival for the craft of wig making and has helped foster two candidates through the two-year program.
During the pandemic, Erica was working in the film industry, having wrapped "Odd Squad, Mobile Unit" (Sinking Ship Prods., Emmy Nomination), "Man From Toronto," starring Kevin Hart and Woody Harrelson (Sony Pics) and Oprah Winfrey's tv series "The Kings of Napa" (OWN/Warner). You can watch for her soon-to-be-released work on "Code 8, part 2"(Netflix) and "Flint Strong" with Ryan Destiny and Bryan Tyree Henry. (Strong Fighter Prods.)
Erica has returned to Theatre for her 22nd season at the Stratford Festival. When she isn't on set, Erica loves building wigs for other theatres and film projects from her home studio.
Their Work
The gallery below showcases some of this artist instructor's work
Current Courses
Explore the courses currently offered by this instructor. If you have questions, please contact us!
Instructor: Erica Croft | Session 2: Four Consecutive Days (December 12 – 15, 2023)

In this popular four-day workshop, learn the basics of wig creation, modification and dressing.

Instructor: Erica Croft | Session 1: Four-Day Workshop Over Two Weekends (Dec. 9 & 10, Dec. 16 & 17, 2023)

In this popular four-day workshop, learn the basics of wig creation, modification and dressing.
Experience intensive hands-on learning and one-on-one mentoring in small classes. Check out our upcoming course listings to see what interests you!
Join Our Newsletter
Receive course updates, upcoming event announcements, and more!